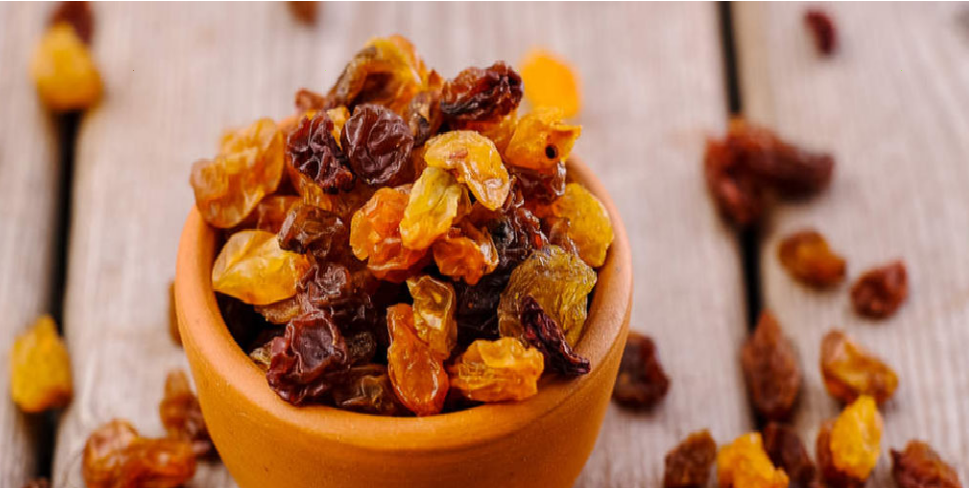 High-sugar foods are heavenly, but they also bring along numerous lifestyle diseases with them. Nowadays it is difficult to choose minimally processed food from the vast list of mouth-watering foods.
Are you looking for healthy options to indulge your sweet tooth on the go? Choose raisins, dried grapes, and a source of natural sugars to keep you going between meals. Though raisins are sugary, they are packed with natural fruit sugars and also supply many essential nutrients. They are popular for no added preservatives and are also minimally processed. There are various types of raisins available in the market. Their shape, size, and color vary depending on the process of drying or dehydrating them. One such variety is yellow raisins which are dried in large dehydrators at controlled levels of temperature and humidity. This process gives them extra plumpness, juiciness and flavor to make them perfect for their application in baking.
In addition to eating yellow raisins as a snack on their own, try indulging them in healthy recipes.
Add them to toasted oats and chopped walnuts for an oatmeal cookie muesli.
You can also add them to Greek yoghurt.
Use them in halwa, kheer, pudding, and other sweet dishes.
Use yellow raisins to add pops of sweetness to braised pork or tagines.
You can also blend a few raisins into your morning smoothie to give the desired sweetness without refined sugar.
Health Benefits of Yellow Raisins
Raisins are rich in vitamin A, beta carotene, and A-Carotenoid which are extremely good for the health of the eyes. Also, the presence of antioxidants in the form of polyphenolic phytonutrients keeps eyesight strong.
They are loaded with iron and B-complexes vitamins which help in treating anaemia. The copper content in raisins helps in the production of red blood cells.
They have a good amount of potassium and magnesium which helps in removing toxins from the body. It also helps in preventing diseases such as kidney stones and cardiac problems.
Yellow raisins contain a generous amount of soluble fibre which gives a laxative effect on your stomach. Thus, it helps in regularizing bowel movements and reduces acidity, and other similar digestive problems.
These raisins are considered good for oral health due to the presence of oleanolic acid which is a phytochemical. These essential nutrients prevent the growth of bacteria and keep your teeth safe from decay.
Raisins can become your best friend if you are trying to gain some weight. They are extremely rich in fructose and glucose which boosts your energy levels. Also, having soaked raisins in the morning are good for anyone without the risk of increasing cholesterol.
Yellow raisins are a good source of calcium which helps in maintaining bone health. It also aids in treating arthritis and gout.
These raisins are enriched with Vitamin C and antioxidants that help in maintaining radiant and youthful skin.
Hence, consuming raisins daily in moderate quality can be highly beneficial for your life. If you want to reap all these health benefits then choose only yellow raisins suppliers in India.
Reasons why to buy raisins from yellow raisins suppliers in India-
They have a huge infrastructure that is equipped with modern machines and equipment that are necessary for the production efficiently.
They are supported by a team of professional quality inspectors who check all the products carefully before making the dispatch.
They store yellow raisins in a huge warehouse facility hygienically to ensure they are free from impurities and infestation.
They make sure of the timely delivery of consignments to the market with the assistance of the best logistics.
They offer multiple modes of payment including online and offline options.
They provide high-quality and tasty long yellow raisins at highly competitive prices.
A packet of Yellow Raisins is easily available in supermarkets. So, get in touch with the wholesale yellow raisins suppliers in India to source and supply in bulk quantity.
Conclusion
Thus, it can be stated that you can add a range of nutrients to your diet with a handful of yellow raisins. This nutrient-dense dried fruit is highly popular among the people which has created huge potential for the suppliers.