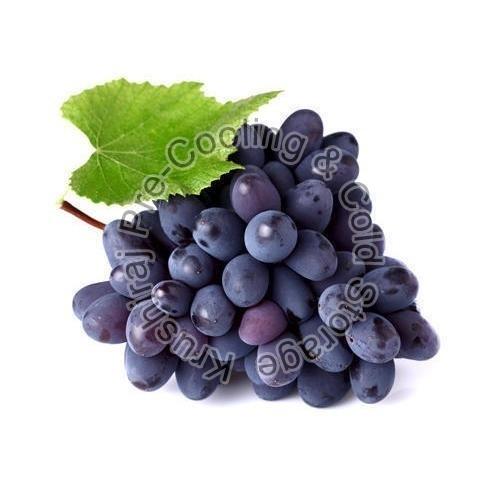 Did you that the oldest cultivated fruit in Europe and the Near East regions is black grapes? According to records, the cultivation of grapes dates back as far as 8000 years ago. These compact sweet fruits may appear almost or completely black but are truly an acute mixture of purple and blue colours.
Ever wondered how these fruits got such an intense colour? The fruit gets its intense colour from the presence of the antioxidant anthocyanins in extreme concentrations. Although the first thing that comes to mind on hearing about black grapes is red wine black grapes are a healthy option for your dessert as well as for snack. Most Fresh Black Grapes Suppliers in India benefit from red wine manufacturers but once people find out about these amazing benefits of black grapes, tables may turn. Even if not, at least you will start reaching out for black grapes more during your snack time.
The Three Unique Benefits of Black Grapes:
1. Black Grapes Can Improve Your Vision - One key component that is known to help maintain good eyesight is carotenoids. Black grapes are packed with two forms of carotenoids - Zeaxanthin and Lutein, thus helping the consumers with maintaining good eyesight. The small yummy, juicy black fruits can protect your retina from oxidative damage while also preventing blindness, as per the study issued in Free Radical Biology and Medicine.
2. Black Grapes Can Improve Your Skin Robustness - Black grapes are packed with antioxidants and what are antioxidants good for - skin treatment. Black grapes can treat minor skin problems like acne due to the abundance of anthocyanins, which is a kind of antioxidant, in grapes.
Apart from helping improve skin robustness, black grapes can also help treat hyperpigmentation, sunburn, and water retention (also known as oedema). This is because antioxidants present in grapes protect the skin to some degree from the harmful effects of ultraviolet rays on the skin. Thus, as you can presume, black grapes help you fight against skin cancer.
Now you might be wondering that these fruits are the reason why red wine is so good for the skin, you are partially correct. Intaking black grapes are good for the skin, but nothing can beat the effect when black grapes are applied topically to the skin. Ask the fresh black grapes suppliers in India and they can confirm how many skincare brands order from them.
3. Black Grapes Boost Your Immunity - Apart from antioxidants, black grapes are also rich in vital vitamins like Vitamin A, Vitamin K and Vitamin C. The richness of black grapes in vitamins along with minerals and flavonoids causes the intake of black grapes to boost your immunity system.
Black grapes when cultivated organically are also rich in organic acids and sugar, making black grapes a popular snack. However, to get the sweet taste of the fruit, you must opt for organic and fresh grapes which can be easily bought from fresh black grapes suppliers in India. You may store black grapes for weeks, but the quality diminishes over time.