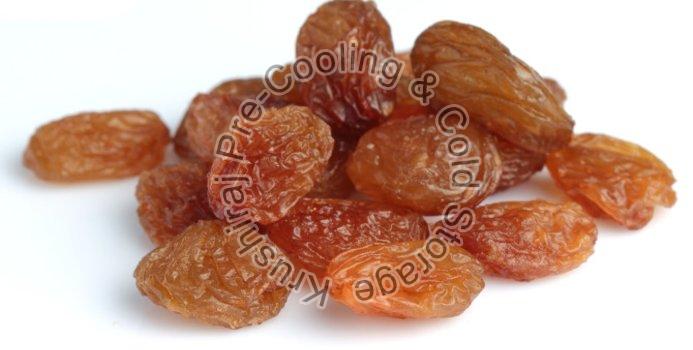 Raisins are made commercially by drying the harvested grapes. The heating process evaporates the water inside the grapes, makes them smaller in size and gives a wrinkled texture to the raisins. In India, districts of Maharashtra namely, Nashik, Solapur, and Sangli are the major raisin producers. There are different kinds of raisins produced and available in the market and different varieties depend on the kind of grapes used to process them. Raisins are usually minimally processed, with no added ingredients like sugar or preservatives.
Benefits of Consuming Brown Raisins
-They are loaded with insoluble dietary fibers which act as a natural laxative to improve bowel movement and treat constipation.
-They are extremely rich in iron along with copper and other important vitamins and minerals that are necessary for carrying oxygen to the body parts and the production of red blood cells. Thus, it helps in preventing anemia.
-Due to the presence of good content of potassium, eating raisins help in reducing the risk of cardiovascular diseases like blood sugar, hypertension, and heart stroke.
-It helps in preventing the growth of cancerous cells because of the presence of polyphenols which are antioxidants that help in fighting against free radicals in the body.
-Raisins also have some amount of calcium which is good for the health of the bones and teeth.
If you like brown raisins and their winey, sun-dried sweetness and you want to reap the health benefits associated with raisins then here are a few more innovative ways to enjoy them more with these delicious recipes.
Just eating raw: This quick and easy-to-grab dry fruit can be consumed as it is or in soaked form after a strenuous workout to replenish your energy levels. Raisins can last for ages and that's why you can carry them on your long trips as well, especially on trekking trips.
Indian desserts: Some popular yummy festival delights like halwa, kheer, ice cream, and pudding are prepared using raisins to make them more flavorful and add their healthy sweetness.
Oatmeal and smoothies: Healthy breakfast with a handful of brown raisins in a bowl of hot steel-cut oatmeal is a perfect way to start your day, especially on a cold winter morning. In the summer, beat the heat with cold smoothies.
Bakery items: Prepare cookies, muffins, and cakes as raisins can be added to anything because of their natural sweetness which can be enjoyed by people having any health issues like heart disease or diabetes. These items become more healthy and delicious when baked with raisins.
Salads: Raisins can also be added to savory dishes because of their unique taste which gives sweetness and a little chew to salads. Raisins can be topped on any type of salad but the combination of carrot, pineapple, and raisins is a perfect flavorful balance of sweet, tangy, and savory.
The demand for brown raisins remains persistent in the Indian markets among retailers, wholesalers, and restaurants due to their innumerable uses and health benefits. It is one of the highly consumed dry fruits and most people appreciate the quality of brown raisins supplied by wholesale brown raisins suppliers in India.
The popularity of brown raisins suppliers in India is due to the following crucial factors-
-They make sure that the products are 100% safe, nutritional and secure for the consumption of their customers.
-They have a huge infrastructure unit that is built with the latest machines and equipment that are necessary for the process of efficient production.
-They have separate departments to operate in close coordination so that the quality of the product remains consistent in every lot.
-They test the products right from procurement to packaging and transit to ensure that the customers receive only the top-quality brown raisins.
-They offer nutrient-loaded brown raisins at affordable rates.
Choose brown raisins as a healthy snack option to curb your sweet cravings and give a quick boost to your energy levels. Having healthy meals won't be so boring anymore with the addition of goodness and the natural sweetness of raisins. This superfood is healthy but doesn't forget that it should be consumed in moderation as it is loaded with fructose and glucose and excessive intake may result in weight gain.